Today is the day, folks… another "spice up your life" post! Obviously its what we've all been holding our breath waiting for…
Okay, maybe not, but it does seem very timely with the upcoming Thanksgiving holiday, to talk about sage today.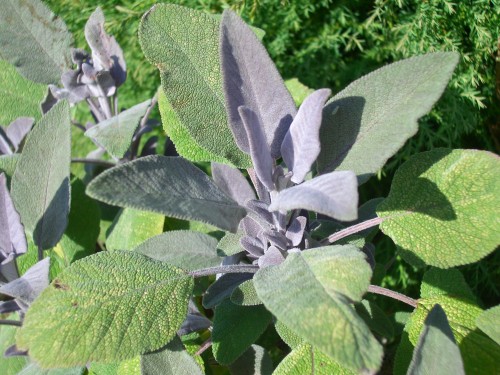 "Spice up your Life": Sage
The Name Game: "Salvia Officinalis" (from officina, referring to its medicinal use), "S. Salvatrix" (Sage the Savior), "adacayi" (island tea).
Famous Advocates: Charlemagne, Pliny the Elder, Simon and Garfunkel
Outside the Kitchen: Sage has a multitude of medicinal uses and indications. It can heighten concentration and attention span (in tea form), soothe/ anesthetize skin (in oil form), digestive relief,  soothe sore throat, control blood pressure/ heart beat, deal with grief/ anxiety/ depression, fertility, insect/snakebites (juice from fresh leaves), and even warding off evil and the plague (it was one of the ingredients in "Four Thieves Vinegar," used to fight off the plague). It is currently being researched for treatment of Alzheimer's Disease.
Inside the Kitchen: Sage plays well with sausage, stuffing, salads, potatoes, pork, red sauces, lamb, parmesan cheese, onion, chicken, pasta, and more!
The career of a sage is of two kinds; He is either honored by all in the world, like a flower waving its head, or else he disappears into the silent forest.
-Lao Tzu 
Do you cook with sage? have you ever used it medicinally? What are you planning to have for Thanksgiving dinner?
Meri