For Christmas this past year my sister and her husband bought man-go-round and I a gift certificate for a night time "photo safari" from Midwest Photo Safari in order to learn a bit more about how to use our cameras, and to learn more about night photography also.
The site we chose was down by the mighty Mississippi underneath the Stone Arch bridge overlooking Minneapolis' skyline. We learned about ISO, F-stops, white balance, composition, tungsten, and a whole lot more that I probably will be calling by the wrong name for time immemorial. I was also excited to learn a few ways to do things with shortcuts on our camera. The best part of all is that we had the most beautiful summer evening for shooting.
What you see below is a compilation of both our digital SLR and my digital point and shoot camera. We rented a nice tripod and got some really great shots, but some of my favorite ones were shot with my point and shoot, and I just liked the graphic quality of them, so I included those below (anyone can google a perfect image of the minneapolis skyline, but I like seeing it from me or man-go-round's perspective).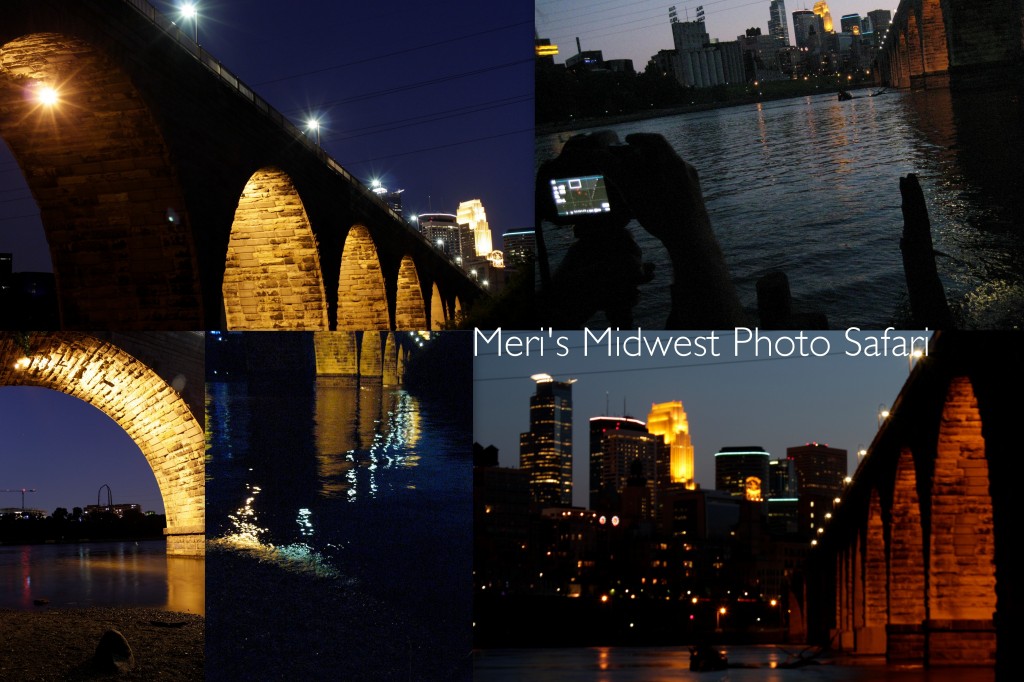 If you live in the area and want to have fun taking photos while learning a bit more about photography or your individual camera, check this company (a charming local husband and wife team) out!
What is your favorite type of photography? Portraits? landscapes? flowers and macro images? Bridges and skylines?
Meri