Nope, it's not a post about the Nickelodeon SNL-for-tweens show All That. Maybe another day.
Today I bring you a little reunion of sorts, for those of us born in the 80s who remember this classic 1999 film: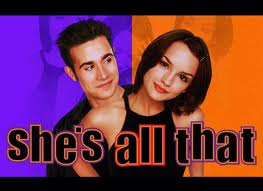 Zimbio created this "where are they now" about the many stars of She's All That. It appears to be a year or two old, but it is still a fun stroll/ scroll down memory lane.
For EVEN MORE fun (can you dig it?), here are a few of my other late 90′s faves to complete our blast from the past today…
Blast from the Past (just thought of this one as I was typing that last sentence) starring Alicia Silverstone and Brendan Fraser. If you've not seen it, you must. I think this was maybe one of Alicia's first not playing a teenager, in fact.
Drive Me Crazy starring the likes of Melissa Joan Hart and Adrien Grenier. There is (SPOILER ALERT) some weird brother-sister-ness about their relationship at the end of the film, but at least it includes Britney's best ever as the theme song/ titular inspiration. It also has the snarky friend from 10 things I hate about you (Kat's best friend who is in love with Shakespeare…)
Can't Hardly Wait: This gem stars J Love Hewitt (see "The Client List and "Party of 5″ if you need a reference), Ethan Embry (remember him?) and even Seth Green and Melissa Joan Hart (do we sense a theme here?). Shoutouts to Lauren Ambrose (Six feet under) for being hella obnoxious, and also Federico from Six Feet Under as a random jock.
Pleasantville: Now this is truly a great film, but teenagers "accidentally" saw it in droves because it had that hottie Paul Walker and everybody's imaginary BFF (pre DUI tarnish) Reese Witherspoon. I love William H Macy in this flick "Where's my DINNER?"
Ever After: Of all of the inane Cinderella remakes, this one was one of my favorites- Drew Barrymore, Anjelica Huston, and a random guy that was so hot that I looked him up and learned his name- it is Dougray Scott.
Drop Dead Gorgeous: Perhaps not as popular as some of the others, but I gotta give a shoutout to this film for being set/ shot in my homestate of MN. I can't even choose who is funnier in this movie, Kirstie Alley or Ellen Barkin. It also stars Denise Richards, Kirsten Dunst, Amy Adams (I had forgotten), and Brittany Murphy. 10 points for gryffindor satire!
I will surely devote another day to mid nineties films (Now and Then anyone?) and Early 2000s films (too soon), but today let's be happy to party like its watch movies like its 1999!
What films do you remember watching as a teen/ tweenager? Do you remember these movies? Who was your favorite teen movie celeb? (I personally claim Paul Walker, there are notebooks in my closet plastered with him for evidence).
Meri