Onward to day two of slap-happy.
I needed this today. I ended up a little (okay, quite) cranky after a frustrating call with satan a certain notorious internet provider. For reasons unknown to me (I am just assuming they like to waste peoples time and lie to them at this point), they have changed our rate/ package again with no reason (we've had service with them for less than a month and it has been a 1st world nightmare).
So…. I took a little walk to let off some steam, get some vitamin D, and what did I find to bring me the happies?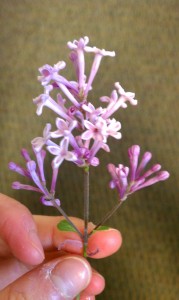 I turned a corner into a wall of lilac aroma, gently wafting into my orbit. I snagged a branch to bring with me in hopes the zen moment would last a bit longer, and help me with my happiness meditation for the day.
I should note that I was already happy several times today (driving with the windows down, listening to David Bowie and the Black Lips, etc.), but that this was the first time of the slap happy experiment in which I needed to change my thinking and stop the negative energy surrounding a situation that was, frankly, stupid and beneath me and this one very short life we're given on earth.
So day 2 is a meditation on the earth, and how it grounds us.
Thank you nature!
Meri