I'll keep this one REALLY short and sweet because of this headache/ eye ache thing that has joined me today…
the journey of my happy inspiration today started last saturday at this farmer's market (as seen from above):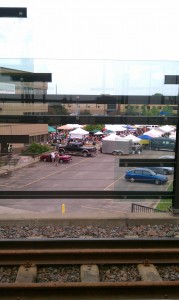 where I bought some "white radishes" which the woman informed me were actually small, sweet turnips.
It continued last night when I prepared some of them for a stew I was making, at which time I also tried them raw.
Wow. I thought that they would be bitter like a radish, and very crunchy. They were, in fact, quite delicious and not bitter, and had a slightly crunchy but slightly creamy texture. I always forget how much better food tastes when it comes just a short distance from a local farm, too.
So the rest of the turnips and ALL of their greens remain in my fridge for something to be cooked up tonight. Thus, my happy inspiration is just enjoying the knowledge that I have delicious food waiting for me, and that I can afford to shop for the food I want, and that I have a kitchen and home to prepare it in with/ for someone I love.
Turnip the volume, turnip the flavor! Photos to come, maybe, if I remember…
Well that wasn't short at all. I guess I'm feeling more like myself already 🙂
Be happy my little radishes!
Meri