For most of my adult life, I've liked to joke that I have a black thumb.
Marigolds have died under my careful watch, pointsettias may not make it to the new year, and there was that savage hydrangea waterboarding accidental overwatering of easter 2014 (may she rest in peace).
I thought I was going to have to add another to the list, the hanging basket that my lovely momma bought for us (on mother's day, no less) for our new home. After a few weeks of watering and dead-heading, it was looking pretty grim.
I don't want to push my luck, but I dare say lately it has been perking up a bit, and yesterday my neighbor even commented on how good it looked (though I do suspect there is a possibility that she has been sustaining/ feeding it with plant food behind my back to save my self-esteem).
This morning as I stepped out into the sprinkling rain, I looked up and saw it looking pretty darn happy, and I wanted to snap a quick pic to send my mom and others to show that we needn't give up too soon on a plant (or ourselves).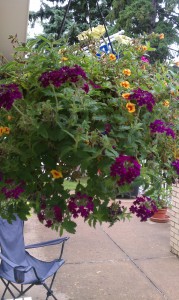 As I told man-g0-round last night, I'm not perfect, and I don't want to be. I'm a work in progress (I'll quit before I start to sound like Matthew McConahey's oscar acceptance speech).
What is your happy today?
Meri