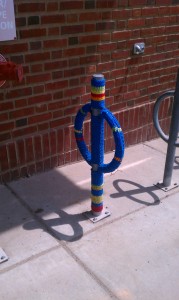 So here we are- day one of project slap happy (I can barely type it without feeling a little bit lighter all over).
One thing that truly brings me happiness is seeing ways that others work to bring beauty to the everyday world. I was just scrolling through my phone pics this morning and remembered that I took this one a few weeks ago. I couldn't tell you what part of the city this is from, which is an endorsement for just how much yarnbombing (and other renegade beautification projects) cover the fair twin cities. We have a few celebrity yarn artists, like HOTTEA, but also everyday artists who cover the cities in pretty colors, brightening bike racks, tree trunks, chain link fences and beyond.
On this day in June, it pleases me to have this reminder about others who like the world to be in full technicolor.
If you like what you see here, you should see my related pinterest board…
Be happy, be kind-
Meri